Act of Remembrance Weekend of 5 and 6 June 2021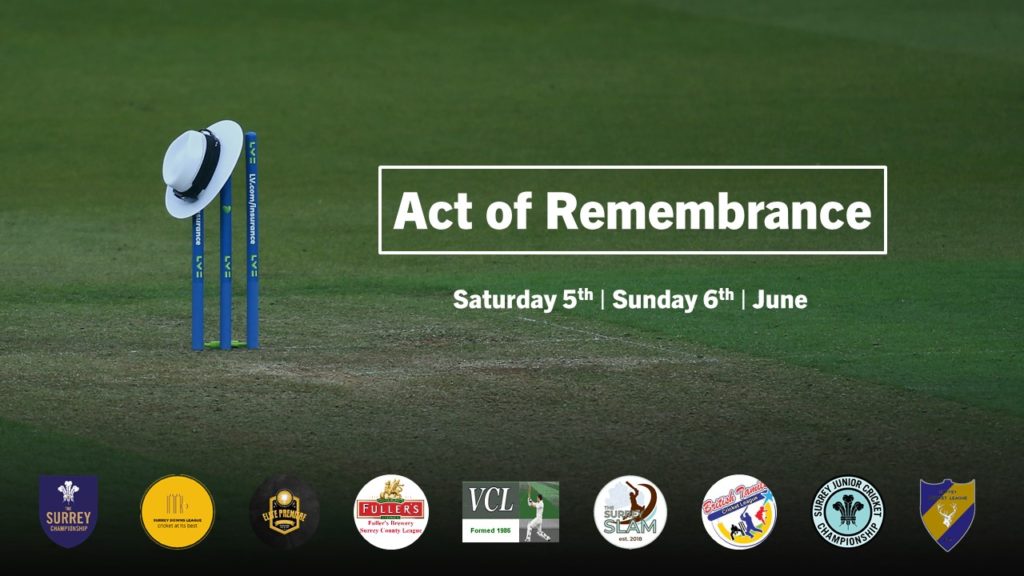 Surrey Cricket Foundation ask all Surrey Leagues and Club to remember those we sadly lost in the pandemic
Following the Surrey Championship's lead, we (Surrey Cricket Foundation) would like all clubs across Surrey (Junior and Senior) to participate in a moment of reflection and celebration across the weekend. It will involve a minute's silence to remember those lost to the pandemic before a moment of applause to celebrate the return of relative normality.
Therefore, we ask that on Saturday 5th and Sunday 6th June, clubs and teams across Surrey come together for a minute's silence and applause either at the start or during their respective matches. We suggest that this is organised as below:
Teams line up alongside or facing as they prefer a few minutes before the scheduled start of play.
All team members from both sides to be in the line either in playing or training kit. It might therefore be done during the break between innings so that everyone is present and is changed, but the choice of timing is up to the teams involved.
Match officials to be invited to take part if they wish to do so.
One minute's silence followed by a short burst of applause, up to 30 seconds, with home captain or his nominees to time keep.
Others present not to form part of the team line-ups but free to stand nearby and join silence and applause.
Clubs and leagues are encouraged to take photographs and promote this activity on social media bearing in mind to use an appropriate tone when they do so. The above image can be used as well.
Source : Surrey Cricket Foundation

This page was last reviewed and updated 4 June 2021