My reflections on Surrey Downs League- David Gentles
Whilst there is rightfully a huge amount of excitement as to what is ahead for South Nutfield Cricket club, having opted to join the Surrey County League for 2023, there is a tinge of sadness as the Surrey Downs league has been my only Saturday adult league experience.
Having been thrown in the deep end when I was captaining the South Nutfield Cricket Club (SNCC) seconds circa 1996 when our seconds first joined the league, it was a thrill to not only join some familiar teams who had been on the regular friendly circuit, but to experience new grounds, new teams and what was striking, a new competitive edge to the cricket was immensely exciting as were the new challenges of getting your head around the points scoring and remember the threat of points being deducted if results were not posted in time (think stamps not facebook!).
I was extremely fortunate to have had an exceptional team at my disposal and remember some instant rivalries being formed in those early years, most notably with Shere and in particular, fierce competitors such as Andy Green. We traded Second division league titles for the next few years.
In the early part of the new century, I was tempted to turn my hand at playing and soon to be captaining our First Eleven. Those early years provided a distinct step up in quality both in terms of opposition but with the likes of my brother Jason, Chris Walker, Ash Mills and the late Andy Gilbert, we were always there or there abouts, whilst being probably a quality player or two short to get over the line as champions.
The main thing I will take away from Tenety Five or so years of playing in the Surrey Down league is the friendships, not only with people I have and still play with but also, some of the fiercest competitors and best players I have played against will be sadly missed. The list is long but some notable mentions of people current and recent past who will be missed include Grant Waller, Ian Elliot, Craig Stevenson, The Drake's and dare I say it, Jason Launder! There are many others, and you probably know who you are, but for longevity, these in particular stand out.
To more recent times, I guess nobody knew how much we'd all miss cricket until Covid. Thank goodness this season (2022) was normal and even more thanks to the return of teas and who would have thought a whole season without rain disrupting a game!
I suppose it is fitting that to mark our departure our firsts won The Surreu Downs League Division 1 to go along with their win in 2019. What was equally pleasing for me was the Second Eleven team winning The Surrey Downs League Division 2 for the first time in around 25 years. In the autumn of my career, this season was the best team I have played in in all my time and Jack is undoubtedly the best player I have ever played with (just dont tell him).
I suppose, all that leaves to do now is wish everyone good luck for the future, remember there are always good and bad times, keep enjoying it.
Try to make your club an integrated part of your community like we have and success on and off the field will come.
I will be keeping a keen eye out on how you all get on next season and future seasons. I hope to cross paths in one way or another with many of you in the future but for now, winter well and goodbye.
with Thanks to David Gentles for "My reflections on Surrey Downs League"
David Gentles – South Nutfield Cricket Club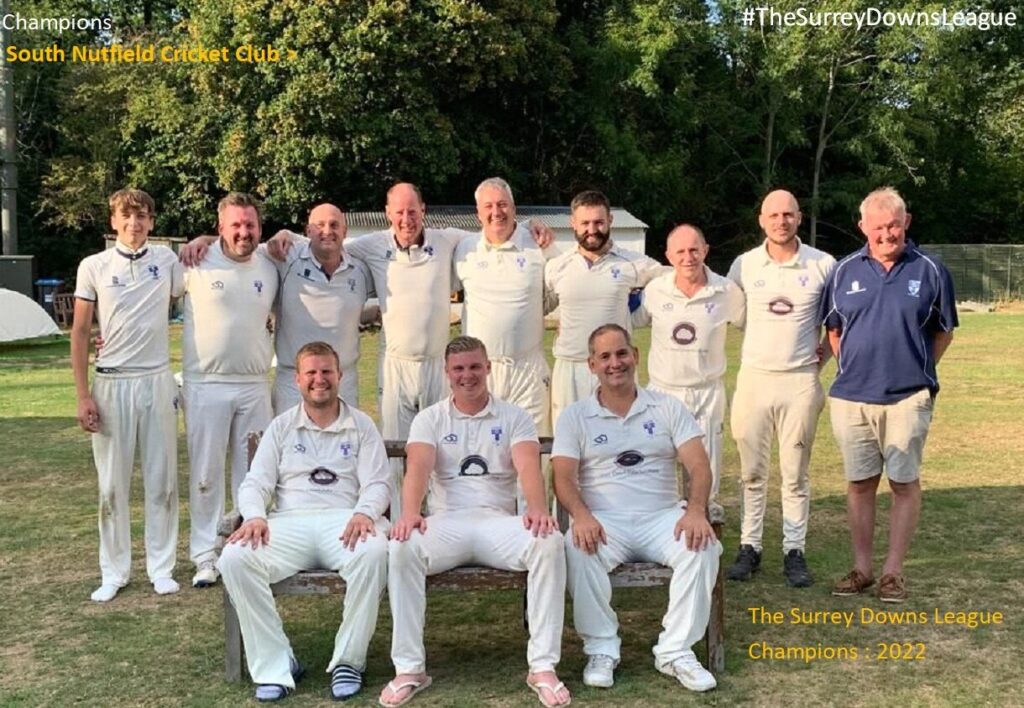 this page was last reviewed and updated 20 September 2022